« Back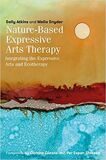 Sally Atkins and Melia Snyder
"NATURE-BASED EXPRESSIVE ARTS THERAPY. INTEGRATING THE EXPRESSIVE ARTS AND ECOTHERAPY"
London and Philadelphia: Jessica Kingsley Publishers, 2017. – 176 p.
A response
Stephen K. Levine
Ph.D., D.S.Sc, REAT, Professor Emeritus, York University (Toronto, Canada), Founding Dean of the Doctoral Program in Expressive Arts at The European Graduate School (Switzerland)
Abstract
In his response to the book by Sally Atkins and Melia Snyder, Stephen K. Levine not only notes the high merits of their writing, recognizing it as the best book that he has read on nature-based expressive arts therapy, but shares his personal experience in relation to the environment and nature. He notes the human need to set down roots, and also to go beyond the boundaries of our habitual environments.
Keywords: environment, expressive arts therapy, nature-based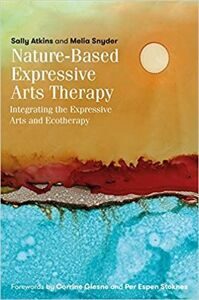 Book cover of Nature-based expressive arts therapy. Integrating the expressive arts and ecotherapy
Let me start by saying this is simply the best book that I have read on nature-based expressive arts therapy. The book is deceptively simple, yet it is based on extensive practical experience in the field of expressive arts as well as on a comprehensive knowledge of the theoretical foundations not only of that field but also of related ones, such as eco-philosophy and systems theory. The book also discusses the authors' experiences with members of different indigenous cultures and the stories they tell of our relationship to the earth and to other living creatures. Poetry and story-telling are used by the authors to exemplify the aesthetic relationship to the earth of which they speak. For readers of our journal, I can think of no better guide to this emerging field.
In this note, however, what I would like to talk about is my own personal response to the book. On the one hand, I feel drawn to the authors' stories and to their experiences as they relate their own lives to the settings in which they have taken place. Sally Atkins' essay, "Why I Walk in the Woods," in this issue of the Ecopoiesis journal, shows how strongly her perspective has been influenced by her native environment. She is a woman from the Southern Appalachian Mountains, deeply rooted in this place and its natural beauty. I have known her for more than 20 years as a fellow teacher at the European Graduate School and can testify to the integrity of her work. Melia Snyder now teaches at Appalachian State University in North Carolina, where Sally taught and where she created expressive arts programs that Melia now leads. Both of them are pioneers and have brought new perspectives into the field.
I come from a very different background, having grown up on the streets of Brooklyn and seeing "nature" as elsewhere, something one goes to for rest and relaxation, whether it be the beach or the mountains. Moreover, I do not feel rooted in the earth in the way that Sally and Melia describe. Although I certainly have had powerful experiences of a relationship to nature, my tradition and personal history are much more ones of wandering upon the earth, being somehow different from and outside of the places in which I have lived. Part of this no doubt stems from my identification with the Jewish history of displacement, of having been cast out from the nations. I have even sometimes identified myself as a "rootless cosmopolitan," a category whose members have historically been despised and excluded. This is indeed the way in which Nazi ideology rationalized their hatred of the Jews and their need to exterminate them.
We live in a world today in which many others experience this feeling of being rootless. Forced migration has become the fate of hundreds of millions. We should also remember, however, that migration and immigration are not anomalies; they are our historical destinies as human beings. We are creatures who roam the world, settling down and then forgetting our origins. The wanderer is then experienced as the Other, the one who needs to be cast out to affirm our own solid identity. In fact, "identity" itself excludes the other, who must then be eliminated as a threat to the sense of self. Nationalism is the form which this tendency takes on a collective level. Ideologies of blood and soil thus form part of the poison spread over the globe today.
Yet even for the wanderer, there is a longing to return to the origin. The garden from which we are exiled is indeed the foundational myth for our own culture. Can we go back? Can we make the desert bloom, as the pioneers of Zionism claimed? The slogan of early Zionism, "A land without people for people without a land," conveniently overlooked the Palestinian dwellers who were displaced by this search for a homeland. The legacy of the Occupation haunts us today. Is it true, as Thomas Wolfe titled one of his books, "You can't go home again"?
Can nature-based expressive arts therapy return us to our roots? Must we go to indigenous elders to find the wisdom that we need? Of course, this prizing of indigeneity overlooks the fact that all cultures originally came from elsewhere, not to mention that age, as I can myself attest, does not necessarily bring wisdom. Nevertheless, even a rootless cosmopolitan must ask, what is the truth of this myth of the origin, a myth so powerful that even native cultures share it? As even Rousseau is sometimes reputed to have said, if the Golden Age did not exist, we must invent it. Is our longing necessarily perverse, a neurotic symptom of our desire to return to the womb?
We have all had experiences of rootedness, of feeling a powerful connection to the Earth. I myself have been struck by the beauty of the oceans of Martha's Vineyard and the mountains of Saas Fee, as my essay in this issue of the journal relates. It is not an illusion to feel our aesthetic belongingness to the earth. However, this is something that I do not usually experience in my urban life. How can we reconcile our longing with our belonging? Can we hold them both together?
And how can we transform our cities into beautiful dwelling places? Can we bring the experience of rootedness that nature-based work gives us into our urban surroundings? Is it possible to create beautiful cities in places marked by the devastation of the earth? This is perhaps the task of ecopoiesis, to create livable habitats, places which can both help us to feel rooted and interconnected, and yet can also honor our differences and separateness. Nature-based expressive arts therapy speaks a great deal about the importance of harmony: harmony with others and harmony with the Earth. Can we also value the importance of dissonance, breaking the circle to create new forms? Can we go back and yet go forward as well? I welcome the work of Sally Atkins and Melia Snyder as reminders of where we need to set down roots, and I also look forward to a new perspective that can also go beyond our rootedness and give us space to roam.
Reviewer:
Stephen K. Levine
Ph.D., D.S.Sc, REAT, Professor Emeritus, York University (Toronto, Canada), Founding Dean of the Doctoral Program in Expressive Arts at The European Graduate School (Switzerland)
Reference for citations
Levine, S.K. (2020). A response: Sally Atkins and Melia Snyder. "Nature-based expressive arts therapy. Integrating the expressive arts and ecotherapy." Ecopoiesis: Eco-Human Theory and Practice, 1(2). [open access web-based journal]. – URL: http://ecopoiesis.ru (d/m/y)
DOI: 10.24412/2713-184X-2020-2-108-109