« Back

TOUCHING NATURE: TOUCHED BY NATURE: AN ENVIRONMENTAL ARTS THERAPY EXHIBITION REVIEW BY STELLA PHIPPS
View the online gallery here: https://www.lauderdalehouse.org.uk/whats-on/touching-nature-touched-nature-environmental-arts-therapy-exhibition
Walking among the beautiful, ancient trees in Waterlow Park in north London on a cold, crisp autumn day last November, I came across the Lauderdale House gallery. The building is nestled right in the heart of this tranquil park, far away from noise or traffic. There was a stillness and sense of calm with leaves rustling in the wind and birdsong. The exhibition aimed to raise awareness about environmental arts therapy and the many benefits it can offer us, and the communities in which we live. At its core, this exhibition inspires us to attune more deeply to the natural world, so that we can, in turn experience the flourishing of our creativity, health and wellbeing. The sense of wonder was added to by the fact that this was the first exhibition to be held at the gallery since going into the national lockdown back in March.
As a newly qualified art psychotherapist, I have a keen interest in furthering my understanding of this approach, and the exhibition has profoundly influenced me, both personally and professionally. I saw the exhibition with my partner, who is a music therapist and we viewed the art in silence, experiencing a deep sense of presence and reverence. In the main gallery space upstairs, the atmosphere was quiet, like a sanctuary, while downstairs in the café area, it was lively and bustling with people drinking tea and chatting. This was the first exhibition we had seen together in a long time and it was amazing to see art and to be among people again. Also, it turned out to be the last day before London moved into tier 3 restricting meeting in public spaces, so in hindsight there was a sense of relief that we had made it just in time!
The exhibition brought together a wide range of visual art by 20 artists, from painting to printmaking, sculpture and photography. The artists are also art therapists, trainees of environmental arts therapy and eco therapists. Many of the artists had made their artwork outdoors or brought nature into their studios, using found materials.
In photographic works by Gary Nash, his hand is pictured resting on the branch of a Silver Birch tree. This delicate black and white photograph (below) picks up the similarities in detail and texture of both the tree and the human hand. To me, this captures a moment of presence and appreciation for the trees and reminds us of our interconnection. We perceive nature with all of our senses and I was reminded of how grounding it can feel to walk on fresh grass or to reach out to gently touch a growing tree…
Figure 1.Touching Birch by Gary Nash
It was inspiring how the artist David Little worked with sunlight, ivy and the passing of time to form an image. He placed paper coated with light-sensitive cyanotype emulsion under living ivy and left it to expose in the sun.
In David's words:
"The procedure is ritualistic and performative: to go out in the early morning to make art in the woods (and with the woods) is exciting but makes me feel vulnerable too. I'm aware of the beauty, of growth and decay, and the natural cycles of which I am a part.
'Times passes, and all things change, quickly or slowly.
I sit for an hour as the cyanotype completes its photo-chemical reaction. This is a kind of spontaneous drawing, and I don't know or want to know exactly what result will emerge. For me the image made with ivy reflects uncertainty and ambiguity. It may evoke hot summer skies, but it's also like looking through ice."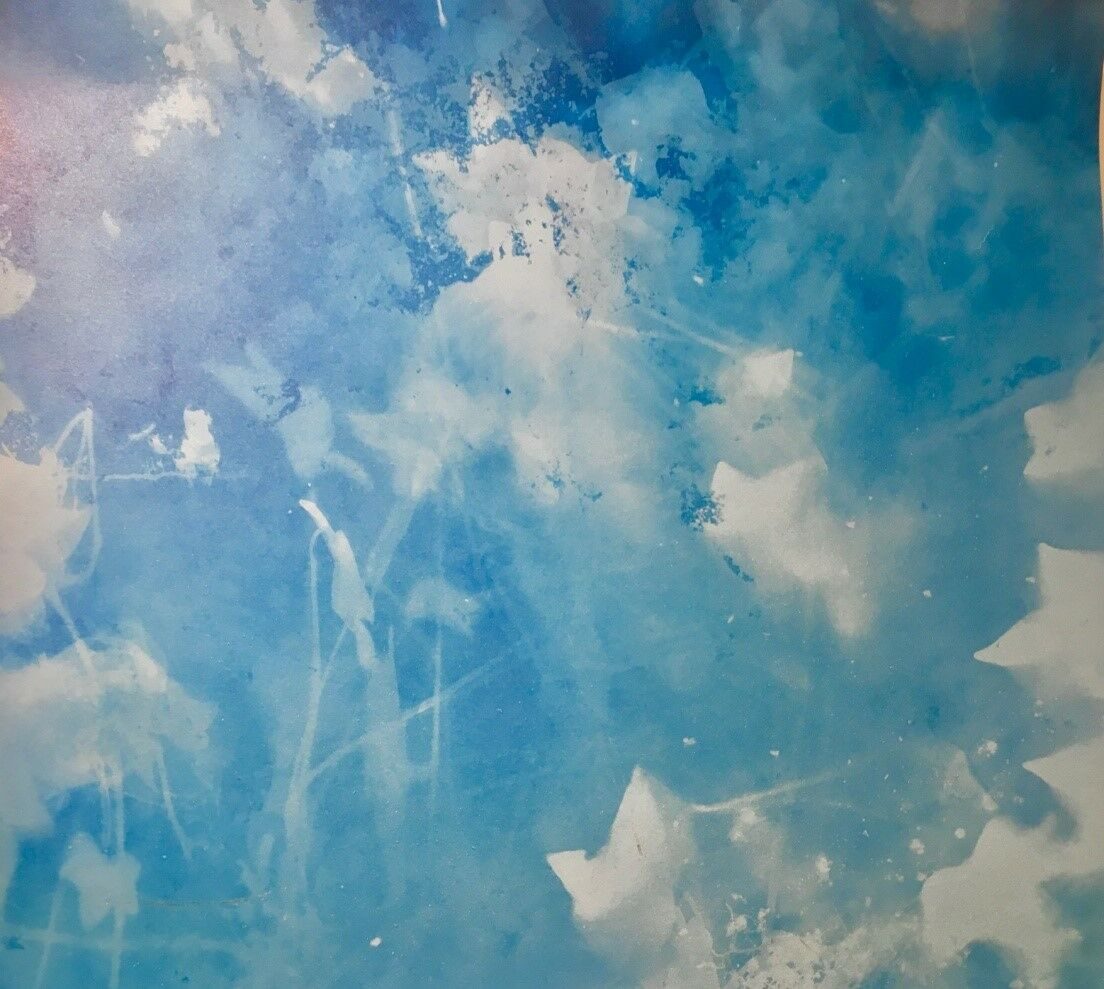 Figure 2.September 2020 (detail), unframed cyanotype on paper, by David Little
This image holds multiple meanings for me too, including memories of my childhood garden, capturing a fleeting moment, a dynamic imprint and water, the unconscious, dreams…. Hearing of the artist's experiences of making art in the woods and 'with the woods' brings the image even more alive for me. He allowed his art to unfold naturally, organically, trusting the process and welcoming uncertainty. I find it magical how this image is co-produced by the artist and the ivy and how this process of creativity brought them more closely together.
Ian Siddons Heginworth's photograph entitled 'in the womb of the stone mother' shows an aged figure made of stone, lying down and covered in fresh green leaves and twigs. For me, this is a compelling reminder of our relationship with the Earth, with life and death, our physical impermanence and cycles of regeneration.
The Celtic year begins with November and recognises this as a time of new beginnings and the start of another cycle, with plants dying and giving way to new life as they decompose, sowing seeds back into the Earth. Siddons Heginworth is a pioneer of environmental arts therapy and his 2008 book follows the Celtic calendar. He explores how we can find meaning in these symbolic stories and traditions, in relation to our art making outdoors in nature, our emotional experiences and the turning of the seasons.
"The turning of the year invites us to descend again and again into the bare bones of our being to meet the child, raw and vulnerable, within." (Siddons Heginworth, 2008)
Figure 3. Neural journey by Karen Raingold (mud, ink and embroidery on paper)
Karen Raingold's artwork (above) is made from mud, ink and embroidery on paper. This extraordinary painting reminds me of cycles in time with this meeting of the caregiver and the child, the old with the new. In Karen's words:
"I was considering brain development in early childhood and how the experiences that I, as a parent, expose my son to may help to develop the neural connections in his brain. Simultaneously I was envisaging these connections much like veins or string that were bringing us together as we both developed, explored and became inspired by the different elements that we experienced around us in the woods."
I find it moving to hear Karen's reflections on her art making and how her process is so personal to her, as a mother, woman, artist and environmental arts therapist. As she says, being in the woods with her son and making artwork about this shared experience, has been very meaningful. To me, the branch-like structure around them is like a shelter or home, which suggests that nature is becoming the 'outside frame' for environmental arts therapy (Nash, 2020). It is holding emotional experience to safely and gently unfold. Furthermore, I feel this image reflects the inner and outer worlds, our aliveness, imagination and interdependence with the people and places in which we live.
After seeing this exhibition, we walked back through the park and found a quiet bench, where we sat for a while, contemplating our experiences. What stood out for us both was the beauty, sensitivity and tenderness of the artworks and how they showed innate connections between human creativity and the natural world. My overall impression of the exhibition has reminded me of how nature can hold and heal us when we are at our most vulnerable, helping us to meet our difficulties and to move through them.
In the artworks I have chosen to write about, there is a shared use of natural materials and natural locations, together with themes of interconnection, regeneration and the passing of time. The artists have created art about their experiences of being with nature, as an inter-being with the life that sustains us. There is a clear sense of touching nature: touched by nature on many levels. In the process of reaching out, touching nature, the artists immersed themselves in the natural world and helped to preserve these moments, through their artwork. As viewers of this exhibition, we had the chance to be touched by nature, to be moved by the artwork and inspired to connect and reconnect in new, creative and meaningful ways. Finding artworks that are so closely in tune with the natural world has deepened my relationship to the seasons and the green spaces that surround us. It has sparked inspiration for my journey of discovery with environmental arts therapy.
References
Nash, G., and Siddons Heginworth, I (2020). Environmental art therapy: The wild frontiers of the heart. London: Routledge.
Siddons Heginworth, I (2008). Environmental arts therapy and the Tree of Life. UK: Spirits Rest Books.
About the reviewer:
Stella Phipps
is a registered Art Psychotherapist with a background in illustration and community arts. She is experienced in working with children and young people both in schools and CAMHS. Stella has already begun her journey into environmental arts therapy and her visual arts practice is inspired by the natural world. She graduated with an MA in Art Therapy from University of Hertfordshire in 2020.
Reference for citations
Phipps, S. (2021). Touching nature: Touched by nature - An environmental arts therapy exhibition: Review by Stella Phipps. Ecopoiesis: Eco-Human Theory and Practice, 2(2). [open access internet journal]. – URL: http://en.ecopoiesis.ru (d/m/y)