« Back

THE DEEP WEALTH OF THIS NATION SCOTLAND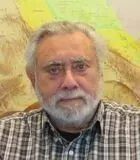 Newton Harrrison
Research Professor and Director of the Center for the Study of the Force Majeure, the University of California at Santa Cruz, Director of Harrisons Studio, and Professor Emeritus, the University of California at San Diego (CA, USA).
I produced a work entitled "The Deep Wealth of This Nation Scotland". In it, in 10 images and 10 texts, we propose how the country of Scotland can move successfully and abundantly through a heatwave. Most recently, the voice of the Lifeweb makes clear how to move forward, and the consequences of continuing business as usual. By business as usual, I mean, for instance, the people who are making electric cars. This is seen as being a benefit to global warming because of the reduction of carbon in the atmosphere, but even if we were leave all the oil and natural gas and coal in the ground from now on, it's still too late as it will take maybe 500 years for the CO2 to renormalize, and during that period the ocean has a lot of space to grow.
You can find here some images and texts of The Deep Wealth of This Nation Scotland Deep when it was last shown in the TaiPei Biennial. It will soon be shown again in Scotland, as the country is going into a discourse on its well-being given temperature shock. Here are some links to these exhibitions
https://www.thebarnarts.co.uk/artist/newton-harrison
https://22wcss.org/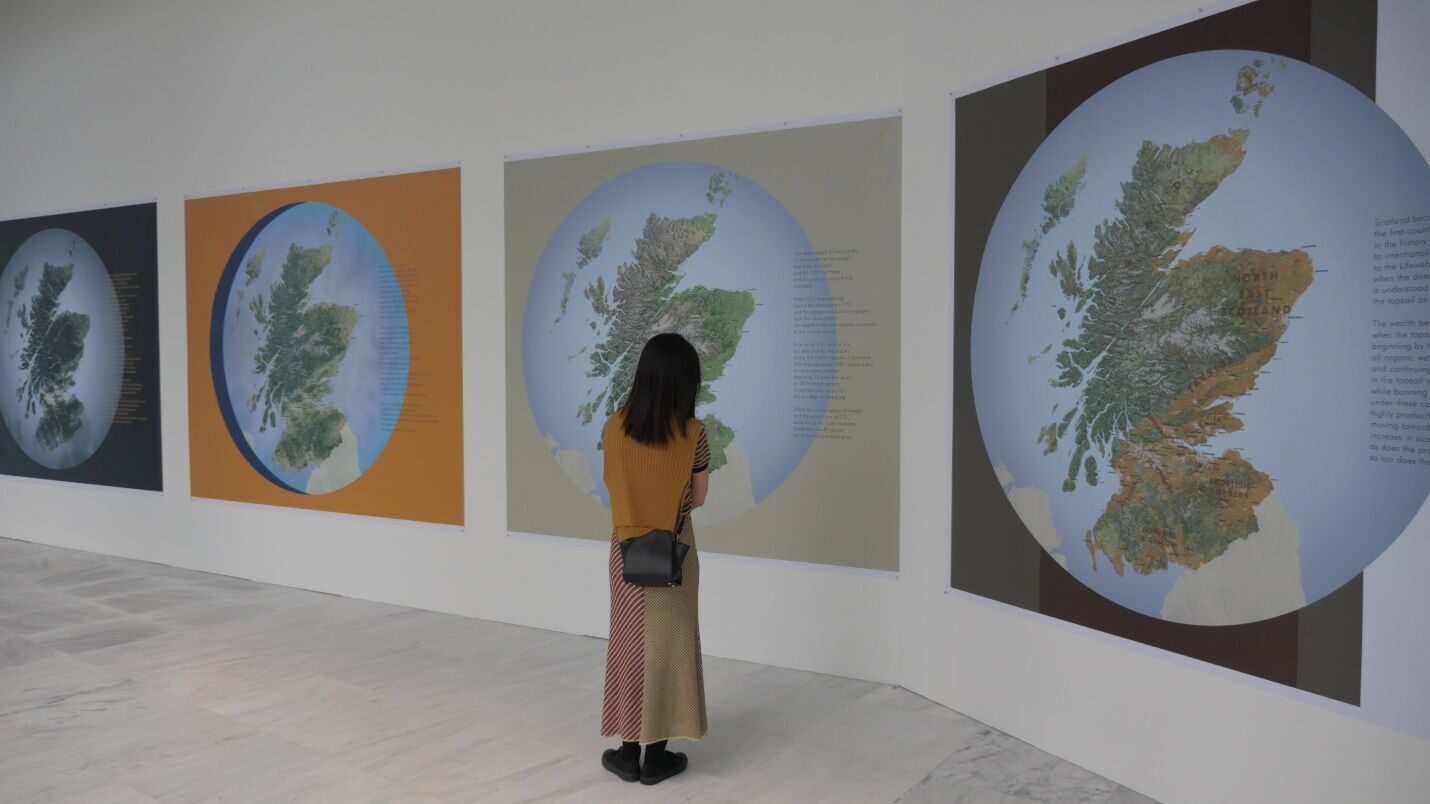 I have created 4 works that deal with an overarching strategy I am developing called preemptive planning. Each of these 4 works expresses the conditions which are necessary for people to live in abundance in a heat shocked world. Future Gardens, of which there are now four works in progress, say how to begin by growing in the now what appears to be viable life in over-warmed future. Helen's Town (https://en.ecopoiesis.ru/aktualnoe/news_post/harrison-newton-helens-town-the-impulse-is-to-begin-again) asks the same question for a 20,000-person small town. The Deep Wealth of this Nation Scotland asks the same questions for a small country. Sensorium (https://en.ecopoiesis.ru/aktualnoe/news_post/harrison-newton-sensorium-the-thinkinglooks) looks to resolving such issues for the world ocean as a whole. This is the very urgent work I think we must be doing as I don't think the heatwave will reverse itself any time soon.
The Deep Wealth of this Nation Scotland does this with a small country with 10 texts and ten images. The history of this work is quite simple. People at the Barn, an "alternate" art exhibition space in Scotland knew my work well, some associates were old friends, and they asked if I would not do a small work like Future Garden in a small area next to the Gallery. I responded that Scotland the country interested me more and I would like to take it up as a work of art and get much better informed.
The Deep Wealth of this Nation Scotland texts express how such a country can move through a heatwave having, in part, reinvented its culture so that all can live with abundance. The opportunity seemed to me amazing, particularly as 20% or over a million of its people were foragers and protective of the environment and a possible voting bloc. Below I will list the conditions that underpin this work.
In answer to the question "how big is here?" It turns out to be approximately 30,000 square miles.

The population is somewhere between 5 and 6 million, with over 3 acres/person. This tells me there is enough forest, and grassland, and farm for both food production and biodiversity.

By food production I mean 5 to 6 million people requiring 3 pounds of food a day each required 18 million pounds of food daily. Can Scotland produce this? The answer was yes if it included a larger part of the ocean and the fisheries were restored.

Is there enough water? It turns out that there are approximately 13 cubic kilometers falling on this land. The majority of this water outfalls into the nearby oceans and estuaries. If 2 million cubic kilometers are siphoned off and stored in non-producing valleys then the probable drought problem can be met.

A quick look shows that the majority of the new Scotch forests will die when the temperature rises because it has been planted with fast-growing, wealth producing, Sitka spruce tree farm that cannot handle heat and drought.

It turns out that there are a variety of ancient trees in Scotland over 3000 years old that have undergone fire, flood, drought and freezing. I found myself calling them the elders. I propose that they can become our teachers for how to grow an ancient forest. Ancient forests are enormously productive, particularly if they are not permitted to reach climax, so that their biodiversity can be enhanced.
So, The Deep Wealth of This Nation Scotland came from these studies which indicated that intelligent ecological design, and generation of new wetland s as ocean rise came, regeneration of forest, and a redevelopment of farming according to the way succession works. All this made clear to me that if Scotland were to put in place plans for meeting its future heatwave, it could do so gradually, intelligently, and end up with the over-production of food and forest products for trade in a world suffering from what might amount to be something as serious as heatstroke.
This is how one begins preemptive planning. If one were to begin enacting the planning then a series of future gardens would need to be generated that expressed what would grow in a warmed world, in the forest, in the farms, in the fields, in the ocean nearby.