« Back
INTERVIEW WITH JEAN DAVIS AND NANCY WU
Abstract
Two artists from NYC, Jean Davis and Nancy Wu, gave an interview to our journal in which they talk about their environmental artistic endeavors linked to Resurrect Studio which entails gathering broken, discarded, but ultimately luminous pieces of glass fragments found on the ocean coastal line. The glass sculptures collectively tell a story of hope and inspiration, of sacred and profane.
Keywords: glass art sculptures, broken glass, nature, Resurrect Studio, Kintsugi, 3-dimensional watercolors, transformative power of art, sacred and profane, garbage, gemstones
Brief information about the artists
Jean Davis
For Jean Davis, making art is essential to her being. A whimsical drawn line or a slap of paint in the center of a canvas, and the world instantly begins expanding. She believes that how one makes art is how they live in the world. Jean is an artist and art therapist and combines both sensibilities equally.
Jean's passion for art began as a young child when long summer days bled into each other, allowing her unending time to meander, play and make things. During adolescence, when life circumstances became challenging and then devastating, making art provided an escape and at the same time, a way forward. For college, she studied at the School of Visual Arts in NYC and after was employed in a commercial art setting. That experience having quickly proved unsatisfying, she discovered the discipline of art therapy and gained clarity about the powerful practice of healing through art. She enrolled and thrived in the Creative Arts Therapy Graduate Program at Pratt Institute, and has since served as an art therapist and administrative leader in numerous social service settings as well as a professor in the Pratt program in which she was trained. She has also continuously maintained a private therapy practice in Brooklyn.
Recently, Jean's passion for personal art-making has been ignited. Over the last few years, her collaboration with artist Nancy Wu and their mutual language of expression has led to a heightened consciousness about the immeasurable value of the artistic process. The friendship with Nancy and later, the birth of Resurrect Studio in early 2021, allowed a new chapter to be born and its ever-evolving philosophy has offered a new construct for thinking about the art of creation in a far more expansive way.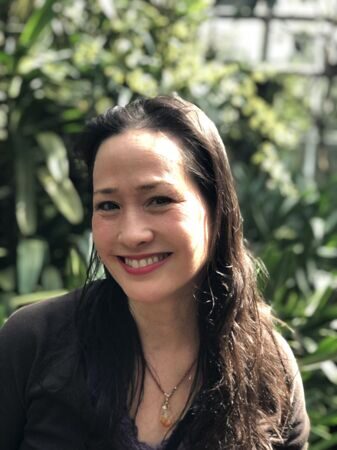 Nancy Wu
Nancy insists her first move is still her best. She chose her parents well, growing up in a mixed-race family of 6 kids with 51 first and 83 second cousins, and 13 sets of aunts and uncles. Every major religion is now represented within her family through marriage, boasting a breadth of professions so expansive that there is a midwife and a mortician; someone to escort you in, and someone to escort you out.
Her love languages include the challenge of cooking for whoever comes to dinner, wrapping presents, sharing in the cool blues and calming greens of nature, riding bike no-place-special for no-good-reason, chocolate and coffee, feel-good music, hot-n-sour soup and big hugs. An English major with a Masters in Architecture, Nancy worked in NYC as an architectural designer. She is most fond of working in the trenches of the creative process getting things built with talented and spirited teams of tradespeople who in spite of daily set-backs and gritty challenges, manifest inventive solutions thus finding a way to enjoy the ride.
Nancy started making art recently to overcome the trauma surrounding the death of her daughter who at 13½ passed from altitude sickness while on a family trip to China in Aug 2016. In a flash, everything changed. Witnessing her soul being released like a bird of passage in the direction of Home, what mother or father would not find a way to climb over the Himalayas if they knew their child was on the other side? Shaking a fist at God only begat more and more grief.
Few are as skilled in the art of Life as Jean Davis, who has the capability of joining people in not only their most difficult of places, but manages to do so with a heart of Love. Linked together by their daughters who remain besties, Nancy and Jean befriended a week before the China trip and have been in spiritual lockstep ever since. Resurrect Studio has heaven to thank.
Alexander Kopytin (AK): Please describe the circumstances that led to the establishment of Resurrect Studio.
Jean Davis (JD): Thank you for your invitation to participate in this interview. We are thrilled to share about our belief in the transformative power of art.
Recently we were interviewed by the organization Art Fluent about Resurrect Studio https://www.art-fluent.com/resurrect-studio and we think our statement then applies in this space as well:
A few years ago, we two friends and artists began doing art alongside one another. Drawing nature outdoors began our making together – as a sort of parallel play that later evolved into experimenting with the medium of glass. We were learning and sharing ways of bringing stained glass pieces together to form colorful panels – each with a story to tell through a landscape of vibrant shapes.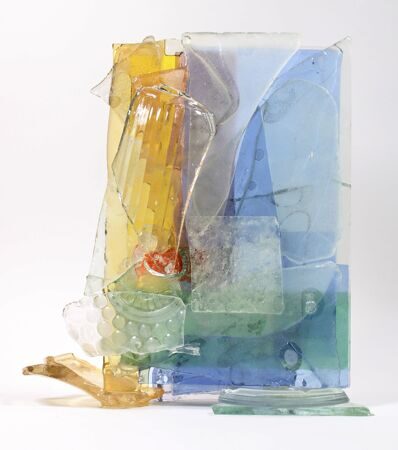 Figure 1 "Take Me Away"
Unbeknownst to us, a studio became available in late 2020, like a gift from the heavens, where we became more involved in working collaboratively. At the same time, we transitioned into a new form of artmaking involving Garbage and Gemstones. Frequenting a Brooklyn beach, litter strewn and abandoned, remnants from years past including thick, weathered glass pieces emerged at the shore's edge, each time with new colors and shapes, wet and glistening. We collected our favorites, the ones we absolutely loved, just for fun, and later with the idea of creating art. It was unbelievable what unfolded.
Glass fragments, each with a unique dimension congealed with resin, became collective pieces in their own right. The shards of transparent colors overlapped and played off each other and later stood upright to become 3-dimensional organisms. The idea that these glass pieces could mimic watercolors and sculpture at the same time was astounding to us! To add to that - time of day, season and location drastically changed the light and, thus, altered each piece as time continued to move by and through them. We fortunately lost some control, and our sculptures became vibrant, luminous and alive!
AK: How has your artmaking process evolved since the outset of this undertaking?
JD: At this point, we are amazed by the myriad of diverse components offered by way of Resurrect Studio. Each exercise along the way is essential to what becomes a final work of art. Also, what makes a sculpture finished is often a question! There's the process of getting the glass. This half day journey takes much preparation with the right attire and supplies and journeying to this littered beach with an eye toward specific gemstones. Some days it's blues, other days texture and we're always searching for the highpoint of UV glass. Each piece collected is an artifact of years passed – anywhere between 1920 and 1950.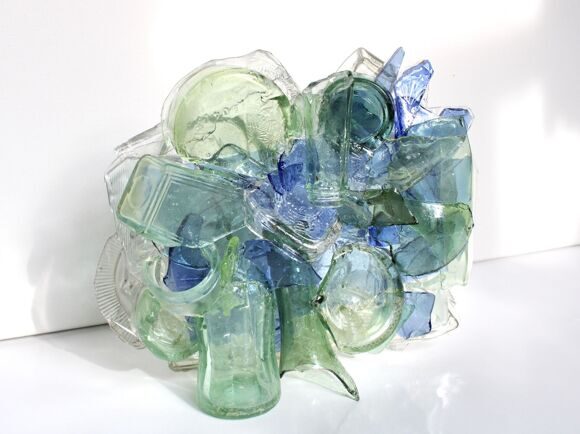 Figure 2 "Springfield"
Then there's the cleaning of the glass, organizing the glass, packing the glass, and bringing it all into the studio. From there, the making begins over homemade lightboxes from old storm windows with spotlights adhered underneath. We both work, more or less, on each piece that is produced - with all of its starts and stops and changing directions.
The last phase is propping up these sculptures on our sunny shelf where we watch the changes it exhibits with every fluctuating season, weather and time of day. If you were to watch a time-lapse video of us in the studio, you would see an incredible flurry of activity. And on that subject, finding the right way to photograph each glasswork with its own personality is an exciting experiment as well. Every moment is new and every piece unique, just like the changing tides that originally brought inventory to our studio. In fact, we often see watery imagery in our glassworks – which we could understand both literally and metaphorically and on many dimensions.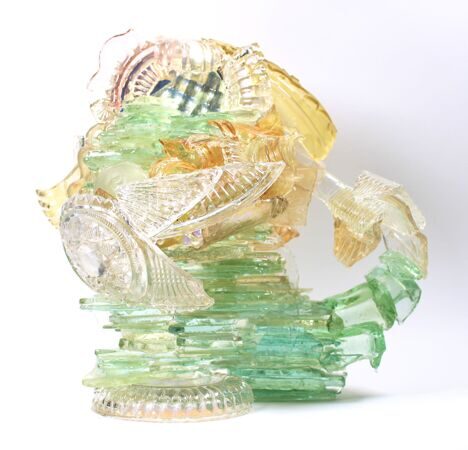 Figure 3 "Rebirth of Venus"
Nancy Wu (NW): I would say that we are our best at this beach, our feet on the ground with head touching blue sky, bobbing for nectar like a bee or butterfly set loose in the garden of Eden. This beach, which is continuously belching up liquor bottles, ash trays, butter dishes, coke bottles and lemon squeezers, is not our fresh landfill of yesterday, but a century-old new-age "quarry" that Mother Earth has been actively breaking down into organic matter. Aside from the smell of tar, it is pleasant smelling. Clues of lives lived a century ago reveal modern industrial age that began the throwaway culture of convenience. This is the setting of our art supply store.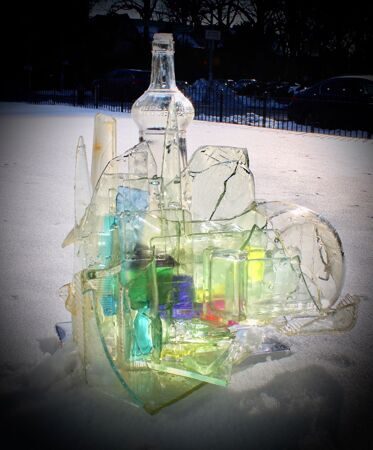 Figure 4 "Utopia"
There is a playfulness and spiritedness essential to the process that we both recognize as integral to the product. As sure as the sun rises and sets, our daily process has to be renewed, dusted off, and repaired. What's interesting to me is that in spite of the circumstances that led to our forming Resurrect Studio, which parallels the story of our lives, the intervals with which the soul is invited to quench her thirst are fleeting and elusive largely because of the age we live in where pragmatism prevails. The Studio is that crucial physical space that helps unleash and capture our ideas as if we ourselves are the Kintsugi glass desperately in need of repair.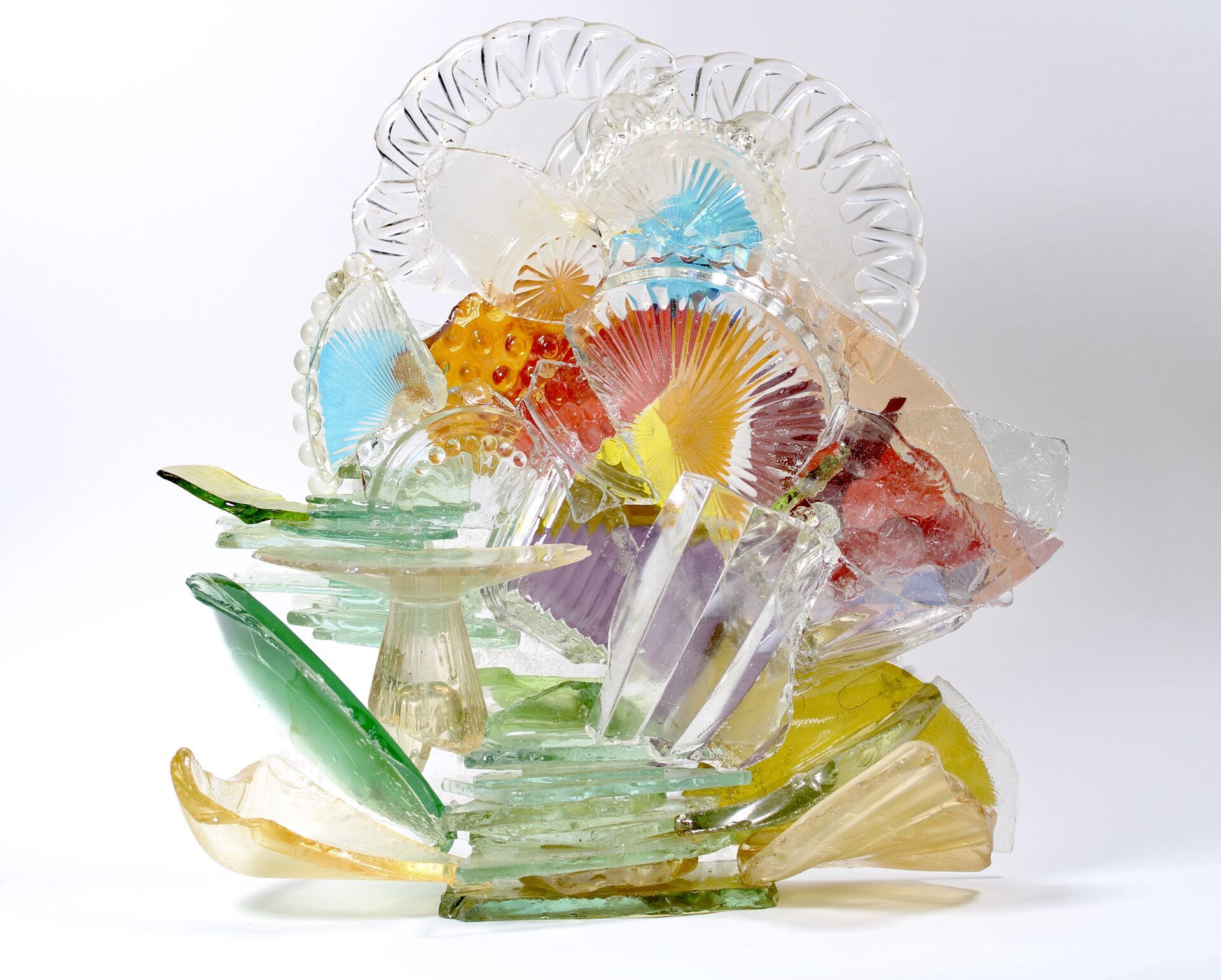 Figure 5 "Wonder Island"
A.K.: In what ways is your relationship with the natural environment significant to the art-making?
JD: We ignore and misuse when we fail to identify. We make health-affirming choices when we care, empathize and love. As a society, we have grown largely detached and dismissive of that which occurs naturally. Even in the face of the increasingly devastating effects of this behavior, we continue to prioritize fleeting material comforts.
Thus, has arisen the crisis of climate change – a crisis for society, of the self, of the soul. For how we feel about nature is, ultimately, how we feel about ourselves.
We of Resurrect Studio relish our visits to a natural source, in the form of a once pristine beach that has been soiled by a humanity that has littered upon it for decades. We sift through these artifacts in search of treasures. Metaphorically, isn't this act we perform routinely in our lives? There's much debris and memories buried within that we must confront and move through to be healed, to gain health, to realize ourselves. We are collecting, cleaning all of these things and attempting to illuminate its beauty.
We are certainly concerned about the warming of the planet. At the same time, our perspective and beliefs extend beyond the visible environment into matters of the psyche and the heart.
NW: This kind of art-making we invented connects us to Mother Nature's biorhythms because it is completely dependent on the tide. Like fishermen going out for a catch, sometimes we find a magnificent bounty, other times nothing. It mirrors life. Even if our finds are not particularly remarkable, there's a use for those pieces as well. Whatever the inventory, it ends up being the blue plate special, and we enjoy the challenge of how to make it look and taste delicious! No two pieces are exactly alike, so resourcefulness is key.
We have a great knack for finding what we do need. For instance, we'll notice that we're getting low on curvy, clear scuffed-up pieces and put that in our mind's eye. This power of intention conjures up a sort of playfulness with the beach and when the thing you set out to find finds you, it reminds you that Nature is seeing you, versus you seeing nature. She will throw you a bone just to keep you going. Because we regard the glass as century-old fossils, some of our sculptures are affectionately named for the day they were unearthed and saw the light of day such as Aug 23, 2021.
We rely on nature and art to restore our souls. Losing yourself in nature makes you feel younger, lighter, less stressed. I'm so glad our process intimately relies on nature.
With bursting energy of grade school kids released on a Friday afternoon, we know to bring our best selves to Studio. We both lead very busy lives with many jobs and kids, and and and… Resurrect is a life practice for finding the hopefulness in everything. As they say, when life gives you lemons, make lemonade; when life gives you broken old lemon squeezers, go and make something from that.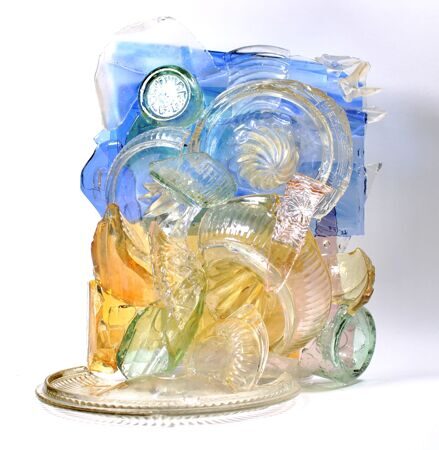 Figure 6 "Life Force"
AK: Is there a philosophy implied in your studio practice? How would you conceptualize the transformation which environmental garbage, the profane, undergoes in order to become a work of art, something beautiful, inspiring and even sacred?
JD: We believe that Resurrect Studio embodies a philosophy, one resting on faith. A belief that when we openly view something others might consider valueless, we can illuminate and celebrate it. We transform to the best of our ability. We believe that in this art form, the discarded can be resurrected and it shows the reality of what we hope for and is the evidence of things we cannot see. This is faith.
There is a vitality in the pieces we've produced because, in the process, we've given over to spirit force. As we see it, everything already exists – and that which has seemingly been buried calls out to be resurrected. Whether we look at people, spirits, (wo)man's will versus God's will or simple concrete art and art materials, everything already exists. But do we see it? Accept it? Integrate it into our lives? At the same time, we understand that this act of transfiguration isn't something we perform in isolation. We are receptive, we act from a knowing and that we are guided from beyond the simplicity and limitation of our egos. We own nothing. We are simply instruments.
NW: We love the broken glass we chose. We picked it up because it happened to attract us in that moment. These chosen pieces – did we find them? Or did they find us? Broken, discarded, brought up, cleansed, cared for, brought together, brought into the light and celebrated. The pieces collectively tell a story of hope and inspiration, of profane and sacred.
We all know the delighting in finding a piece of sea glass, especially blues, teals and ambers. It sets off a feeling of "the cosmos is with me."
Figure 7 "Resurrect"
Please visit our website: resurrect.studio
and please follow us on Instagram: resurrectstudio
Interviewer:
Alexander Kopytin
Doctor of Medical Sciences, Professor, Department of Psychology, St. Petersburg Academy of Postgraduate Pedagogical Education (St. Petersburg, Russian Federation)
Reference for citations
Kopytin, A.I. (2022). An interview with Jean Davis and Nancy Wu. Ecopoiesis: Eco-Human Theory and Practice, 3(1). [open access internet journal]. – URL: http://ecopoiesis.ru (d/m/y)