« Back
Personal reflections
ECOLOGICAL GRIEF IS A REAL THING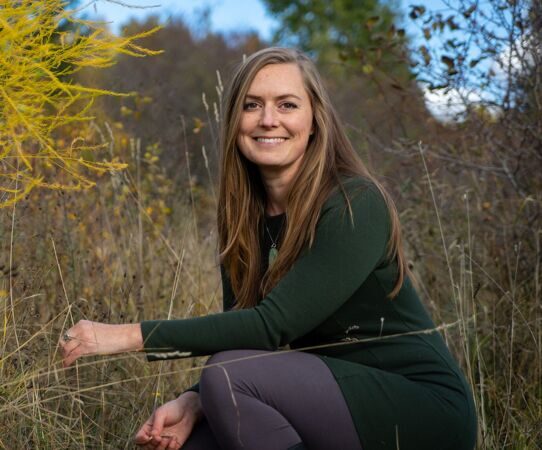 Sarah West
works for her own private practice, Earthen Vision (www.earthenvision.com), as a consultant and professional environmental arts therapist with individuals and organizations to support innovative, sustainable and connected decision-making practices. She has her graduate level art therapy diploma from the Kutenai Art Therapy Institute (DKATI). She has a Masters in public administration and a degree in cultural anthropology and peace studies. Her primary focus is to improve organizational decision making by helping people and groups find focus, clarity and creativity by deepening their connection to the land around them. She has over a decade of experience leading consultations, strategic planning and policy initiatives with provincial governments and Indigenous communities. She lives and works in Nelson, British Columbia, in the unceded territories of the Sinixt, Ktunaxa, Syilx (Okanagan), and Secwepemc Peoples.
Abstract
This essay speaks to the reality of our invisible and visible interconnection with all life on the planet, with a focus on ecological grief as a powerful feeling which can awaken us to our authentic perception of our planet and our own eco-human needs. Ecological grief speaks to the necessity of reawakening our heart and our connection with the earth, to help us remember how to attune to and trust our emotions and feelings related to human and natural ecology.
Keywords: ecological grief, reciprocation, climate change, environment
Awake uncharacteristically early, I open my eyes to the dawn. My chest is tight. I can't take a full breath. There is a heavy weight on my ribcage. I've done enough somatic work to know this is stress manifesting. The wisdom of my body tells me the wildfire smoke has rolled in before I even open the blinds or the news. Eco grief alighted, yet again.
I was on a long awaited, deeply needed, working vacation to rejuvenate around the coast. Graciously, and somewhat guiltily, I was mostly breathing fresh air while my community of humans back home in the interior navigated evacuation orders, relentless smoke, and the inevitable fallout of cumulative mental and physical stress.
World on fire
For all its renowned beauty and first world privilege, British Columbia, Canada, is emerging as a place that feels the impacts of climate change, climate crisis, quite intensely. It gets set on fire. Poorly replanted forests act as kindling, again and again. The town of Lytton burned down. Actually. What little is left of its famed ancient trees of sizes so immense, you can hardly fathom them, are being cut down. In summers of record-breaking heat waves, the waters are drying up, and are too hot for the fish. In the fall, floods wash away the habitat of the fish and their fry, as well as our highways. Grocery stores can be laid bare from panic buying. Grizzly bears are hungry too, reported in areas they aren't normally. I wonder if its related to the mountain berries that turned to dust in my mouth this summer.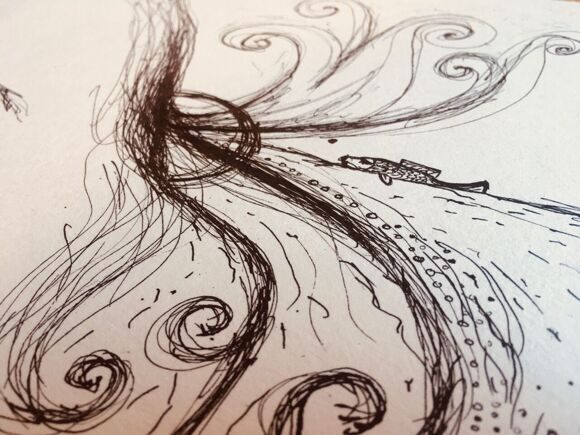 Figure 1: "Fish Facing Fire & Flood" - Pen & Ink by Sarah West
My goodness, the list is endless and sometimes it doesn't feel helpful or trauma informed to detail it. We can all see and feel these changes in our corners of the world, if our eyes and hearts are the least bit open.
Paired with these destabilizing changes in our environment is a global pandemic. There's much talk of "getting back to normal." People want to play, socialize and regain some semblance of normalcy, in the midst of the climate crisis around them. I don't blame them. But the thing is, there is no "normal" anymore. The cycles of our earth as we know it are changing, and it's impacting every one of us, pandemic or not.
So where does this leave us? Here, I'll raise the concept of eco grief.
My entire life, I've had a front row seat to witness the happenings of our planet, politically and environmentally. This has been paired with a deeply cultivated, loving, personal relationship with the lands and waters, and inevitably, personally and professionally, my life has centered around advocating for creating spaces where we can heal - ourselves, our communities and the land - and fold us back into the web of connection. This intense connection with the earth has also meant a lifetime of experiencing eco grief. Maybe a new concept to some, it's important to name and explore what it can look like in our lives.
Ecological grief is a real thing
Firstly, let's start with… eco grief is a real thing. Sometimes nebulous, sometimes brazen, certainly existential. And if you are noticing what's going on with our earth, you've probably had a taste of it. The very world that we depend on for life is stressed beyond anything we've seen before, and it makes sense that we inevitably respond in-kind, whether consciously or unconsciously.
As I wrote about in my environmental arts therapy thesis [5] eco grief, or climate change grief, is considered a "disenfranchised grief," where there is no socially allocated measures for acknowledging losses and sorrow related to the environment [1, p.58]. The softening required to ask, listen and reciprocate with oneself and the land can open one up to experiencing grief which may be present in the land itself or our own grief of what's been done to it.
For a deep dive on ecological grief, I highly recommend reading Francis Weller's The Wild Edge of Sorrow [4], Leslie Davenport's Emotional Resiliency in the Era of Climate Change [1], and Joanna Macy and Molly Brown's Coming Back to Life [3].
https://www.francisweller.net/books.html
https://lesliedavenport.com/books-articles/
https://workthatreconnects.org/resource/coming-back-to-life-the-updated-guide/
Manifestation of ecological grief
Eco grief can manifest in many ways. It can register as literal pain in our bodies. Sometimes it feels like low grade, ongoing anxiety with nothing to really pin it to. It can turn our minds to the existential… "what can we do?" "Where can we go?" It can look like depression, anxiety, anger, frustration, escapism and despair as our plans and way of life shifts.
For me, eco grief looks like a lot of things. I often dream about driving a van far down a forest road, and living off the land if it gets real bad. I named the ecological grief workshops I offer "Take to the Hedges" because I more often than naught want to hide in the safety of the hedges and find nourishment and community there, picking blackberries and hawthorn. I frequently open my medicine cupboard of hand harvested wild and cultivated plants, and find relief in a beginner's knowledge of herbalism. think I should maybe own a tiny home on wheels, in case it needs to be moved from flood or fire.
One time, eco grief manifested as out-of-nowhere pain so severe, I landed in hospital. As the pain subsided, perplexed doctors shrugged and sent me home. It took me some time to piece it together myself. Immediately prior to the pain, I had been writing about eco grief, walking the land, feeling deep in my bones what trauma we've done to the earth. I was having night terrors when I camped near the Old Growth forests being cut down in Fairy Creek that would later that year become the focal point of activists to shine an international spotlight on unsustainable forestry practices. Ah yes, the body needed to purge its eco grief, and no test the doctors performed could identify this.
As much as I grieve and love these beautiful lands, I know that the feelings are mutual. A few nights before being hospitalized by the pain of eco grief, I was awoken in the middle of the night while camping by goodness knows what, to discover the ocean's bioluminescence had rolled in. I danced with and for the stars, trailing otherworldly light above and below. A gift beyond measure from the earth, before I entered the dark.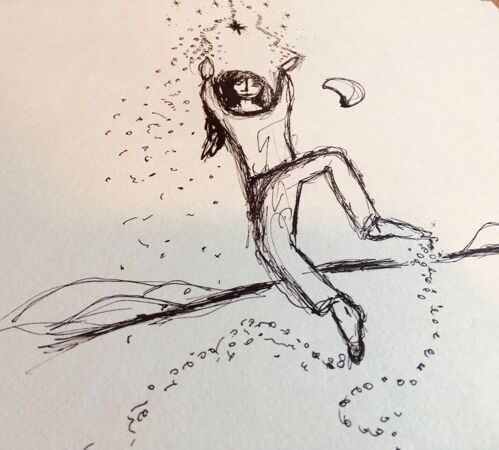 Figure 2: "Dancing with the Light" - Pen & Ink by Sarah West
Grieve and be with
So, let's circle back around to "what can we do about experiencing eco grief?"
First and foremost, we grieve… for ourselves, and the earth. In the same way we grieve our other losses. We feel and honour our emotions. Cry when we need to. Rage safely. Do whatever you can to nurture yourself. Talk about it. And do this for as long as you need to, in the face of grief's ongoing presence. Something like creating a grief and gratitude altar with my clients has shown to be incredibly powerful [5]. Denial and escapism may seem like desirable options, but in the long run, grief left unhonoured can have negative repercussions.
We grieve in our own ways, and also turn our attentions to being with the earth. Even when she's hurting. Especially when she's hurting. Walk those cutblocks. Witness those ancient giants fall by the saw, if you can. If you can bear it. Visit those places where the contamination of castaway metals is so thick, even developers fear to build there. Sit on the stumps of the ancients. I have. It hurts. Then step back, always step back, and be sure to resource yourself. This stepping in, and stepping out, is so worth it because it keeps me awake, keeps me tender, and most importantly, keeps me connected.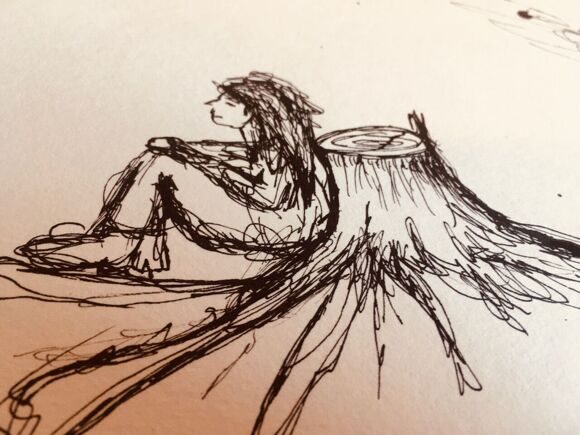 Figure 3. "Being With" - Pen & Ink by Sarah West
Rejuvenate & reciprocate
In the same breath, remember that the earth loves you. Remember that she is not helpless. Remember that she can rejuvenate herself, as all life can. Just as you can. Especially if we have a little help. This is evidenced in the cycles of the year, as time and time again, the waters flush out contaminants from abandoned natural resource projects in the mountains around me. I see this in the saplings that spout from the stumps of nurse trees, cut long ago. I see this in the life that bursts forth in the nuclear wasteland when I visited Chernobyl.
Notice how the earth shows her love for you. Sometimes she'll leave you a beautiful flicker feather, streaked with brilliant orange, just as you're embarking on a journey. Sometimes, she'll shine her light for you, on a day that feels particularly dark. Sometimes, she'll bring you courage and inspiration from the youth rallying across the globe to sing her praises and demand for her care. This is what it looks like to engage in the spirit of reciprocation with the earth, and it can be cultivated.
Reciprocation is the foundational element of growing relationships. Receiving without giving back in some way is a one-sided venture. Often, we can look to the land to find support or extract its resources for our use, emotionally or otherwise, without offering anything back in return [5]. Let's counter this by offering to the earth our own unique giftings, whatever they may look like. Find some way to reciprocate with our planet. The possibilities are endless. Get creative.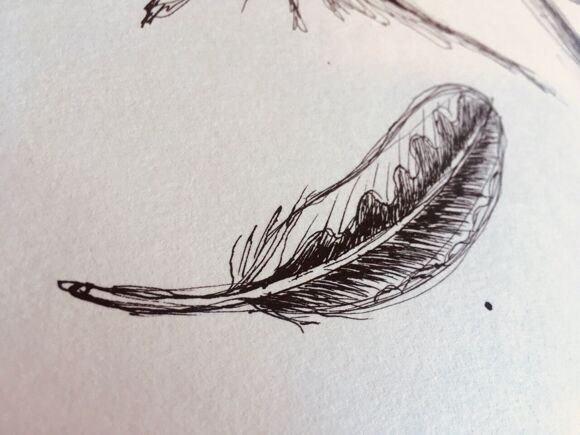 Figure 4. "Flicker Feather" - Pen & Ink by Sarah West
Take heart
And finally, take heart! Many times, I have turned to the Elders, who have been advocates for the earth for decades longer than I, with my urgency and despair. They remind me, with grace and kindness, to take care, pace myself, because we're in this for the long haul and all is not lost, not yet. Yes, there is differing opinions as to whether we've reached the tipping point in this climate crisis, if we've reached the point of no return. Regardless, I consciously choose, again and again, to take heart. Every cell in my body knows the powerful, transformative potential of creativity, especially when we explore what can emerge when we collaborate creatively with the earth herself. I witness this without fail in my own life and with the clients, organizations and Indigenous communities I work with using creative, land-based decision-making methods.
Joanna Macy and Molly Brown [3], amongst many others, speak about how we, as humans, are on the precipice of the "Great Turning" (p.5). This is a process of creating new ways of relating and solutions, leaving behind current behaviours premised on unsustainable practices. With this shift we, as humans, have the ability to change our perspective and relationship with the earth through reconnective work that imagines new, sustainable realities premised on hope. This shift includes a thawing of numbness by feeling our interconnectedness with a planet that is indeed hurting. In awakening to the grief that may flow from our melting, there we can find new life [3,4,5].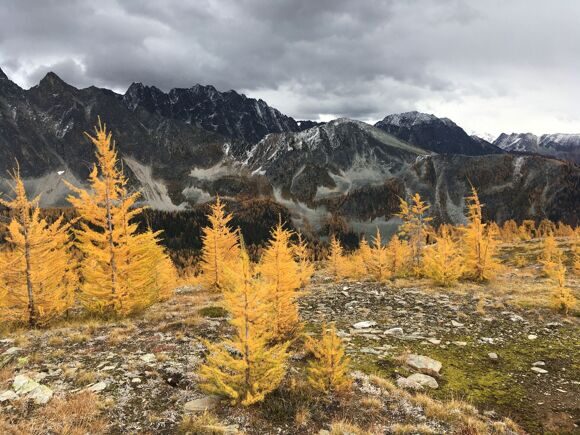 Figure 5. Golden larches in the fall alpine, Kootenays, BC.
A complete re-envisioning of how we move forward is needed, and now. Let's do this with creativity and practicality, in step with the earth in these transitional, tumultuous, transformational times.
Grief is love manifest. Connect with the earth, and thaw the numbness. Take heart. We're in this together.
Note:
Please feel free to connect with Sarah if you'd like to explore how eco grief may present itself in your life, connecting with the land, and ways to resource yourself. One on one sessions and eco grief workshops are available online and in person in Nelson, British Columbia.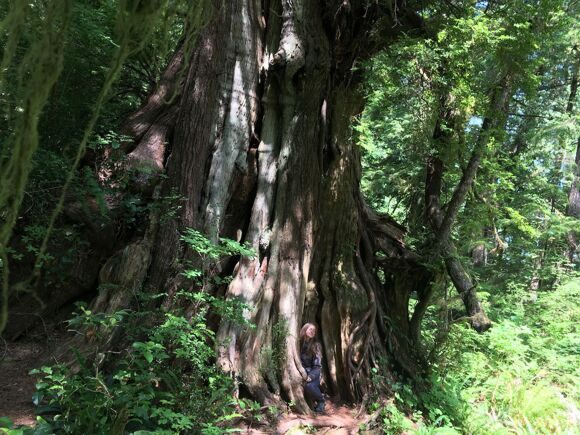 Figure 6. Author with a Giant Cedar Mother Tree, Meares Island, BC
References
Davenport, L. (2017). Emotional resiliency

in the era of climate change: A clinician's guide

. London and Philadelphia: Jessica Kingsley Publishers.

Kimmerer, R.W. (2015). Braiding sweetgrass.

Minneapolis, MN:

Milkweed Editions.

Macy, J. & Brown, M. (2014). Coming back to life. Gabriola

Island, British Columbia: New Society Publishers.

Weller, F. (2015). The wild edge of sorrow: Rituals of renewal and the sacred work of grief. Berkeley, California: North Atlantic Books.
West, S. (2020). Creative Collaborations: The value of environmental arts therapy and the triple spiral framework in land-based decision making [Unpublished capstone project]. Nelson, British Columbia: Kutenai Art Therapy

Institute.
Reference for citations
West, S. (2022). Ecological grief is a real thing. Ecopoiesis: Eco-Human Theory and Practice, 3(1). [open access internet journal]. – URL: http://en.ecopoiesis.ru (d/m/y).