« Back
MOURNING FOR THE UN-SEA-N: TO OUR BELOVED MARMARA SEA. WHEN DID THE MOTHER BECOME THE OTHER?*
*reprinted with permission from "POIESIS: A Journal of the Arts and Communication", 2022, Vol. 19, P. 239-252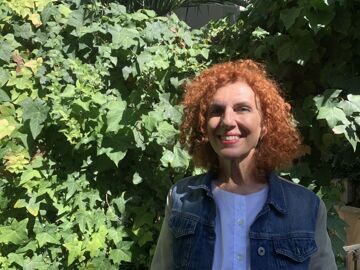 Aylin Vartanyan, (CAGS, PhD candidate)
is an instructor at Bogazici University and a member of the Peace Education Center at the same university. She is a facilitator at the Expressive Arts Institute Istanbul and Expressive Arts program at EGS, concentrating in conflict transformation.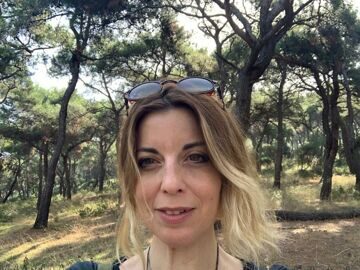 Fulya Kurter Musnitsky
is the founder of Expressive Arts Institute Istanbul. She is a psychotherapist and facilitator specializing in Expressive Arts Therapy and Psychodrama. She has her own private practice and is currently a Ph.D. Candidate in Expressive Arts at EGS.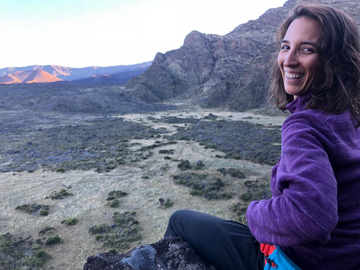 Beliz Demircioğlu,
PhD, teaches at the Expressive Arts Institute Istanbul, Istanbul Bilgi University and Limpid Works Prague. She is an expressive arts practitioner, registered somatic movement therapist and a dancer. Her book Improvisation in the Expressive and Performing Arts has been published by Jessica Kingsley Publishers.
Abstract
This reflective essay explores the possibility of an ecological grief work as experienced by a group of women, the attendees of the Istanbul Expressive Arts Institute, on the island of Burgaz, near Istanbul. In 2021 the Marmara Sea experienced a condition called the mucilage, also called sea snot, a serious threat to the ecosystem of the sea creatures, as well as the dwellers of the city. By honoring the significance of the Marmara Sea for the city, the authors share how in the community of 13 women, the un-sea-n stories of the suffering sea, as well as of an Armenian woman who was excluded by some inhabitants of the island because of her eccentric love for the sea, could be contained through the rituals that emerged from nature-based expressive arts practice.
Keywords: Marmara sea, eco-grief, mourning, mucilage, nature-based expressive arts, expressive arts experience
Prologue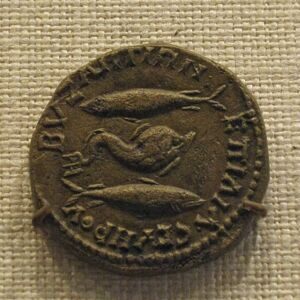 Figure 1: Bronze coin of Byzantium: Dolphin flanked by two tunny fish, 146-176 CE (Metropolitan Museum of Art, New York). Photo by Roan, P. [6].
Wailing tunes embraced my soul
I am in a dream filled constantly with songs
Along with flying birds, seagulls
A green sweet spring
Thrilled lovers laughing
There was passion and pleasure
And a sea that had waves full of love[1]
These lyrics are from a very popular 1960s Turkish song, most probably inspired by a walk near the Marmara sea. It points to the evocative quality of living near the sea and the poetry and love that the sea gently carries to the everyday lives of city dwellers. Being near the Marmara sea, an inland sea connecting Europe and Asia by the city of Istanbul, has always functioned as a getaway that allowed Istanbulites to breathe, to be in touch with the flowing streams of the sea that open a door for contemplation as a way of de-centering from everyday life. The sea is an ideal mother archetype for Istanbulites. It is a source of abundance, where fishing by the Bosphorus or on the Galata Bridge is an everyday practice for many people to feed their family or sell the fish to make a living. The marine life is embedded prominently in Istanbul's culture, art, and mythology from earliest times. The capital city of Byzantium, circa 600 BCE, used a Marmara tuna fish (Euthynnus alletteratus) as its civic emblem and also on its coinage.
Since then, the sea has hosted diverse types of fish and shelled sea creatures and has continued to be an attentive witness to the melancholic dwellers of Istanbul. She also eases the transportation challenges of the city by allowing the movement of hundreds of ferries carrying thousands of people every day. This summer we were shaken by the terror that our "ideal mother," who has been unconditionally there for us forever, was dying. The surface of the sea was covered by a layer of foamy white unfamiliar material. The sea was "throwing up", and this was unstoppable. We were faced with a phenomenon called mucilage. Marmara, connecting the Black Sea to the Aegean and Mediterranean Seas, was crying out and revolting from the burden and abuse she had to carry all these years. Marmara is famous for its marine ecosystem. It always served, and still does, as a bridge, a connector, and a universe that holds diversity[2]. It feeds life in the upper zone of the Black Sea and the lower zone of the Mediterranean. Moreover, its death is not recent. According to hydrobiologist Levent Artüz, the Marmara Sea actually died in 1989. He describes the latest emergence of the intense mucilage as "the decaying of the corpse" [4]. The mucilage is actually the result of the overgrowth of microscopic algae called phytoplankton caused by intense pollution, waste and global climate change [2]. Phytoplankton overgrowth (HABs) produces extremely toxic compounds that harm fish, shellfish, mammals, birds and people. The environmental policies that neglected science, the growing number of poorly planned housing projects, the industries that treated the sea as their dumping site and consumerism of city life, have poisoned our mother. A once abundant and lifegiving sea has now become sick and virulent.
Nothing happens in a day
In a day
Right here
Right there
Here is another funeral without a ceremony
With no coral red flowers
nor a calming blue breeze
only the "dead zones"[3]
Hear
the drought of the sea goddesses
Does anything remain to quench their thirst
Other than our mourning hearts
And a forgotten childhood dream
Nothing happens in a day
In a day Right here
Right there
We dare to see –
(Fulya Kurter Musnitsky, December 2021)
Eco-grief through nature-based expressive arts experience
"How can we encounter our beloved sea that inspires, cultivates and nourishes our shaping capacity?"
"How can we respond to the call coming from the decomposing sea life?"
"How can we contain our sense of despair?"
"How can we relate the phenomena of decay to the context of gender differentiation?"
All these questions were reflecting our state of grief for the loss of a life-giving source for our oikos, the sea. We followed the call to create a containing space to hold and give shape to our grief. This was also after the ongoing wildfires that left us with massive destruction, helplessness and in deep pain.
As the members of Expressive Arts Institute Istanbul, we were looking forward to a naturebased expressive arts experience through an art-analogue approach for our community last September, after the summer break. We were all aware that mucilage doesn't only belong to the sea. The oxygen level was not only low under the sea. (Bio)diversity was not only challenged under the sea due to low oxygen levels. Women and the lgbtqi+ people have been specifically challenged by exclusionary politics and violations of their rights. Turkey's withdrawal from the Istanbul Convention[4] also coincided with an environmental challenge Istanbul was going through.
The destination for our nature-based expressive arts workshop was one of the most beautiful of the Princes' Islands near Istanbul: Burgaz. This was our first face-to-face meeting after months of zoom due to the pandemic. The Princes' Islands, once a destination for exile and imprisonment during Byzantine times, are today an ideal getaway from the city. No cars are allowed on the islands except electric carts (as in Saas-Fee, Switzerland). There are beautiful public beaches surrounding the islands, though the water is no longer clean enough for swimming. The original name of the island during Byzantine times was "Antigone." A reference to Sophocles' Antigone is evoked, a strong female figure who called for a just ritual mourning process for her brother, killed in a war orchestrated by their uncle, Creon. This name resonated with the work we intended to carry out on the island. Antigone was a revolutionary female figure, as well as a reminder of the chthonic ritual of holding a mourning ceremony for our losses.
We felt that one of the well-known sites of the island, Martha's Beach, would be the perfect place for our nature-based expressive arts work. Martha, the woman who gave the name to this beach, was an Armenian woman from Egypt who married an Armenian man and started living on Burgaz island.
The islands are known for hosting the minority populations of Istanbul: the Rums (the Greeks of Istanbul), Jews, and Armenians. For those communities, living on the island meant living in a safe and secluded space. Martha was a woman who deeply loved the sea, the water, the seashells, and felt connected to all the beauty that nature offers. She dressed in her own way, loved putting ribbons in her hair and enjoyed creating accessories from seashells for the women and girls living on the island. At some point in her life, she started living in a fisherman's hut near the beach to be closer to the sea, which was quite unusual for the time. According to her friends, she would also collect rain water to use for long showers, claiming that she was "washing her body with God's water." Her life-force and her confident connection with her body and soul were reflections of her free spirit. Unfortunately, these qualities were not welcomed by some of the inhabitants of the island. In time, the harsh rumors and gossip behind her back affected her gravely and, tragically, she took her life by poisoning herself, leaving a note behind saying, "Now you can relax!"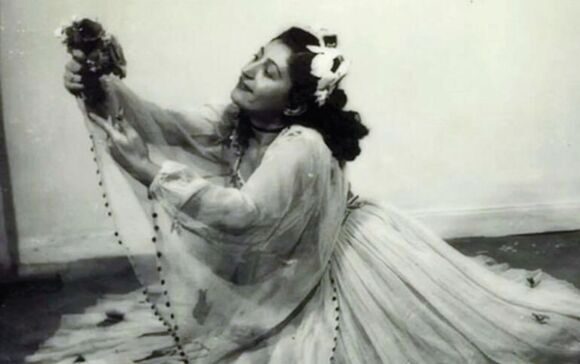 Gigure 2: Photograph of Martha
On this beach
Pebbles lying in harmony with the roots of the trees
The orange autumn light touching our skin gently
The sound of waves calmly entering
our little circle
Yes, we are talking about you Martha
We are looking at your black and white photo
And are mesmerized by your beauty and calm smile
You look right into our eyes
As if you are ready to tell your story
Your love for water
Your passion for blending with the fish and waves
Your longing for one-ness with the beauty that surrounds you
When did the Mother become the Other?
No, you are too much for the island residents
Your abundance turns into bitterness
Your patience does not last
You had to go…
Too early too soon
Your legacy is with us
Us, women who love to play with water
And pebbles
And trees
And who carry on with the songs you started singing
On this beach…
(Aylin Vartanyan, December 2021)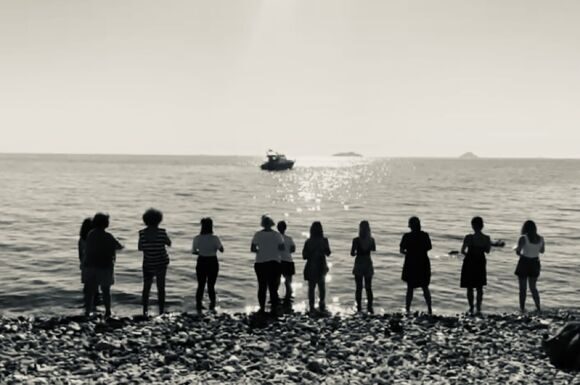 Figure 3: Burgaz Ada, September 2021 (Photo by Sevinç Çalhanoğlu)
In our small EXA community circle, we were immersed in Martha's story. We were gathered by the decaying sea, revisiting Martha's story, who also left this world as a result of an ethical and human decay she could no longer bear. While the mucilage brought the truth of the Marmara Sea to the surface, the island helped us dive into the story of an Armenian woman who was pushed to the margins of the island community. As EXA practitioners who, on that day, happen to all be women, we encountered and mourned two losses; the loss of a life-giving sea and the loss of a life-giving woman who was in love with the sea.
We walked silently to the water, stood in line and let the waves touch our feet before the sunset. Then we created a collective statue made of pieces from the surrounding nature. We saluted Martha and each other with a dance by the sea near the area where she used to live. We listened to what the collective artwork had to say. Its message was clear; "Ahenkle Canım!", which means," In harmony my dear!" We were sure Martha would call each of us "my dear" without hesitation.
There was lightness in the air. We were left with this image of harmony versus a decaying sea and values regarding a woman who was marginalized to the point of self-destruction. The following words have been with us:
Our experience of pain for the world is not an individual pathology. When we deny or repress our pain, we also diminish our power of healing our world. Our pain and our power to act spring from our inter-connectedness with all beings [1. p. 93].
Epilogue
Civilized ьan says: I am Self, I am Master, all the rest is other—outside, below, underneath, subservient. I own, I use, I explore, I exploit, I control. What I do is what matters. What I want is what matter is for. I am that I am, and the rest is women and wilderness, to be used as I see fit [3].
Le Guin [3], points out the binary construct we are living in; nature and woman are two "others" that are externalized, invaded, used and abused as the sovereign wishes. Our experience on Burgaz island was an aesthetic response to Le Guin's statement; the haunting image of the mucilage merged with Martha's tragic story. Patriarchy, turbo-capitalism, pandemics, burdens from the "un-sea-n" collective memories left us breathless above and under the sea. In our expressive arts-based mourning work on the island, we snapped out of breathlessness and embraced flow and poetics rather than paralysis. Turkish literature as well as Turkish classical music have been carriers of "hüzün," best translated as melancholy, such as coming from living in Istanbul, a city that is prone to constant change, transformation and plunder with no time and desire for grieving. Expressive arts, nature and, more importantly, the community spirit offered us the opportunity to find our responses.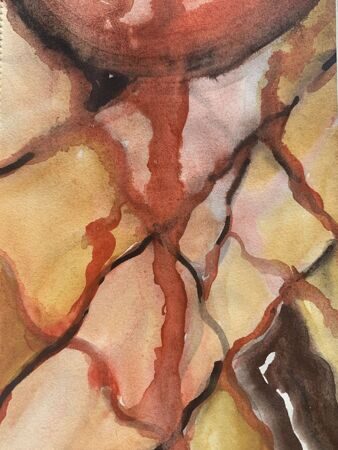 Figure 4: "Akanla Kal" by Fulya Kurter Musnitsky, watercolor on paper.
Once more we felt determined to stay with what flowed, in other words "akanla kal!"[5], which strongly resonates with Stephen K. Levine's call, "Poiesis is always possible."
We want to thank all the participants of expressive arts trainees of the Expressive Arts Institute Istanbul for their dedication and love.
References
Atkins, S. and Snyder, M. (2018). Nature based expressive arts therapy: Integrating expressive arts and ecotherapy. London and Philadelphia: Jessica Kingsley Publishers.

Deutsche Welle (June 16, 2021). "Sea snot" in Turkey is part of a growing environmental threat. Youtube:

https://www.youtube.com/watch?v=5-NQbI7WAzY

Le Guin, U. K. (1989). Women/Wilderness. In Judith Plant (ed.), Healing the wounds

(pp. 45-52)

. Philadelphia: New Society

(pp. 45-52)

.

Olcan, A. and Idemen, S. (2021, May 21). Marmara Denizini Kaplayan Deniz.

Salyası: Cesedin Çürümesidir Bu.

https://birartibir.org/cesedin-curumesidir-bu/

.

Roan, P. (2013). Bronze coin of Byzantium:

https://www.worldhistory.org/image/1064/bronzecoin-of-byzantium/
Notes
[1] Müren, Z. [Avrupa Müzik]. (2022, January, 10). Zeki Müren–İnleyen Nağmeler Ruhumu Sardı (Official Audio) YouTube: https://www.youtube.com/watch?v=rUpDwnQJ5yg. Zeynettin Maraş; the composer and writer of this song, was born in 1927 by the Marmara Sea in Istanbul's Suadiye neighbourhood. According to some sources, the song was created in his dream. The song was made popular by the unique revolutionary artist Zeki Müren. The lyrics are translated from Turkish to English by Aylin Vartanyan.
[2] By the late 1970s, the 127 fish species Deveciyan an Armenian expert of Marmara listed in 1915 had shrunken to sixty. The number would keep falling dramatically to twenty species by 2010, according to the Turkish Biology Foundation
[3] "Dead zone" is a common term for hypoxia, which refers to a reduced level of oxygen in the water.
[4] The repercussions about the withdrawal of Turkey from the Istanbul Convention can be found here: https://www.coe.int/en/web/commissioner/-/turkey-s-announced-withdrawal-from-the-istanbul-convention-endangers-women-s-rights
[5] Here the authors make reference to the visual art work (opposite page) by Fulya Kurter Musnitsky; the song emerged from it in collaboration with Aylin Vartanyan during the EXA based voice and music workshop with Carolina Herbert in Istanbul in November, 2021. The lyrics became a mantra; "Akanla Kal." "Akan" means what flows and "kan" means blood. Associations arrived from there were womanhood, pain, mother earth and life force. Later, all the group members with drums and dancing joined this call of "Akanla kal!"
Reference for citations
Vartanyan, A., Kurter Musnitsky, F., and
Demircioğlu B.
(2023). Mourning for the un-sea-n: To our beloved Marmara sea. When did the mother become the other?

Ecopoiesis: Eco-Human Theory and Practice, 4

(1). [open access internet journal]. – URL: http://ecopoiesis.ru (d/m/y)