« Back
IN RESONANCE WITH THE EARTH
We are pleased to introduce a new section of our journal, "In Resonance with the Earth." We see poiesis as providing the basis for human beings' creative responses to their environment. The arts in particular offer forms that crystallize these responses in ways that touch and move us. "In Resonance with the Earth" will contain poetry, artworks, photography and poetic essays relevant to our theme. We encourage readers to find their own poietic ways of responding. This issue embraces a selection of photographs/installations by Susan Teare (USA) and poetry by Stephen K. Levine (Canada)
BIVOUAC: A SITE-SPECIFIC INSTALLATION
Susan Teare
is currently pursuing a Ph.D. in Educational Studies at Lesley University in Cambridge, MA. She has a BA in Art History from Bowdoin College in Brunswick, ME, and an MFA in photography and media studies from Maine Media College in Rockport, ME. She is the Creative and Education Advisor for the Yellow Tulip Project. The organization is a youth-driven movement working to smash the stigma around mental health and bring communities together to foster hope.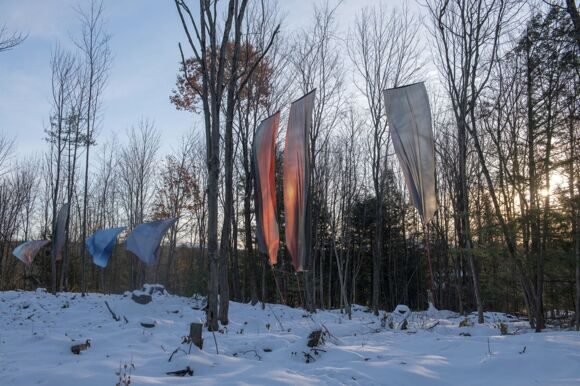 I did commercial architectural photography for over twenty years and longed for a more embodied experience in making art. I was always looking at my photographs on a computer screen which felt increasingly empty as time passed. I needed the freedom to work more intuitively and awaken my senses to my surroundings. I began to make images of water, sky, and fire. Again, the photographs returned to a computer screen, and my frustration remained. I started printing on fabric to see how a new material would change the process and experience. I soon discovered a soft silk to print on that brought the imagery back to life. The silk swayed in the wind like ripples of water. They moved when I moved. The silk changed in the light, therefore, changing the image. I started swimming with the silk and photographing it underwater. The process became a physical undertaking that felt like I was an active participant and part of nature. My artwork was coming alive, and so was I.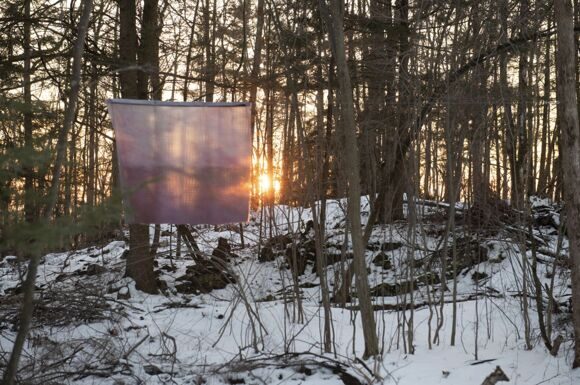 My questions persisted about printed images eventually returning to paper, becoming two-dimensional, still, and–in my opinion–lifeless. I decided they should return to where they were made; they belonged back in the landscape to breathe and live. Close friends in my town in Vermont had some land where a microburst had come through, downing close to sixty trees in the forest behind their house. The surviving trees provided a structure similar to a house's framing, giving me a framework. Over the next six months, the owners and I cleaned up the area to make it walkable and open. I sketched out possibilities of how to hang the silk pieces and spent many hours getting to know the land. I felt peaceful there and noticed a sense of belonging. I printed small and large sections of silk, had them sewn, and then hung them on wires between trees. The installation was completed in December 2018 in time for a winter solstice celebration. I put lights under the hanging silk, made a hundred ice votives, and built two bonfires. The moon provided light as well. Over ninety people made their way through a path in the woods lit with candles in ice to the opening where the illuminated silk was gently moving in the evening wind. The solstice was a pivotal point in my artmaking because my work was not on paper hanging inside on a wall but integrated into the landscape where people could experience art and nature together.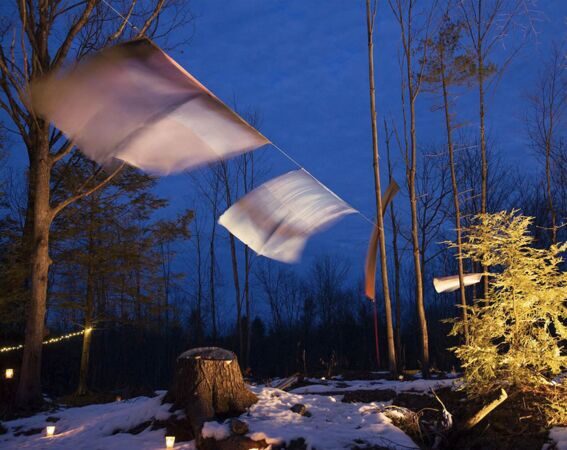 I spent the next year at the site installation. Sometimes, I pitched a tent and slept beneath the trees and swaying fabric. I tended to the silk pieces, watched their interaction with the elements, cared for the land, and made art. The seasons changed, and the silk gradually became tattered. The land began a slow recovery. Regenerative growth, animals, and numerous birds inhabited the area. Some had always lived there, but new opportunities for habitats presented themselves within the altered terrain. The irony of time passing was witnessing the renewal of the landscape while the silk faded and tore. The new natural growth and the decline of the tired hanging art began to resonate with me, representing my healing process and recently discovered resilience.

The installation came down in late 2019. I still feel a pang in my stomach when I realize I will never see or experience it again. It was not meant to be permanent, but the memory is lasting. I feel so much joy reflecting on the project and looking at my artwork created from that time. It is a place to call home.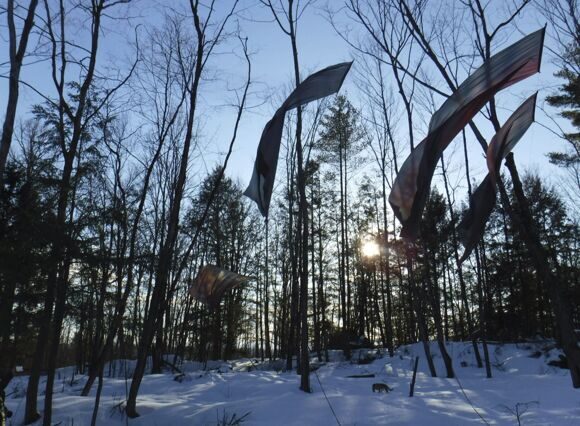 413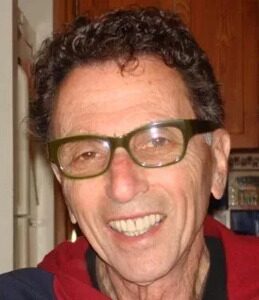 Stephen K. Levine is co-editor of the journal, Ecopoiesis: Eco-human Theory and Practice and of the book, Ecopoiesis: A New Perspective for the Expressive and Creative Therapies in the 21st-Century, as well as other books and articles in the field of expressive arts therapy, teaching at the European Graduate School in Switzerland. He is a philosopher, theatre practitioner and poet, author of Song the Only Victory: Poetry Against War.
"Four thirteen," we chant,
the group of us walking,
on the uncomfortable shoulder of a highway,
cars honking as they pass,
the sound of approval, support, solidarity,
a word unknown to those in charge
who strive mightily to build,
yet another highway
in the green belt of Ontario.
"Stop Four Thirteen," we chant,
Elders, Seniors, Grand-folks.
They build and we chant,
as if our voices alone
could stop the destruction,
speaking truth to power
power that refuses to listen, cannot hear.
But still we walk.
Here we are, the three of us,
father, son, grandson.
Is this the Holy Spirit?
I do believe it is,
brooding over the bent world.
And we shall be redeemed,
yes, in spite of everything,
I do believe that we shall be redeemed.
"Three generations!" I say to all around.
And death shall have no dominion.
Yes, though I stop here
and cannot move another step,
yet death shall have no dominion,
no dominion over love,
no dominion over our love
for the earth.