« Back
GATHER YE ROSEBUDS WHILE YE MAY: A POETIC PUPPETRY EXPERIMENT FOR CONCRETE CABARET'S COLLABORATION
A Prefatory Note
Stephen K. Levine
While in Toronto in June 2020, I had the pleasure of coming upon an online puppet cabaret composed of short pieces all arising out of collaborative improvisations. The one that most caught my attention, "Gather Ye Rosebuds While Ye May," seemed to strike a chord corresponding to the strange situation we are in, using the advanced technology of Zoom to put together a life that longs for direct contact with the earth. The title of the piece, taken from the poetry of Omar Khayyam, the 11th century Persian poet and mathematician, expresses the need for natural beauty that we experience while at the same time recognizing the transitoriness of life. The puppets, made from material found in the beautiful Okanogan Valley of British Columbia, ask whether our civilization is in a period of decline and fall while holding out the hope that love will redeem the moment, no matter how brief.
How it happened
Afsaneh Zamani, Robin Polfuss, R. Reid, Greta Papageorgiu, Hugh Probyn
Concrete Cabaret is a group in Toronto that hosts Puppet Slams: experimental puppetry and object-theatre-based performances! Their 6th Show, due to the pandemic, had to be carried out entirely online, so they decided to try an experiment based on the surrealist game "Exquisite Corpse" (where participants draw different parts of a body on folded paper, without seeing what the other participants have drawn).
Concrete Cabaret's Exquisite Collaboration was comprised of four phases per piece, namely; Premise, Script, Design and Show. Each participant would complete a phase of a given piece, which would then be forwarded anonymously to the next participant by Concrete Cabaret. All phases on all pieces, from premise to show, would be completed inside a month. This anonymous collaboration was carried out across Canada, over the internet, in June 2020, culminating in an online variety show attended by creators and friends on Youtube.
For this piece, Gather Ye Rosebuds While Ye May, in phase 1, Afsaneh Zamani chose a line from a quatrain attributed to Omar Khayyam, an enlightened philosopher/poet/scientist from the 11th C. AD. In phase 2, Robin Polfuss used that line as inspiration to write a script. In phase 3, this script was given to R. Reid who provided some ideas for design, and finally, in phase 4, Greta Papageorgiu and Hugh Probyn created the puppets and filmed a 3-minute, unedited performance.
(The entire event can be seen at: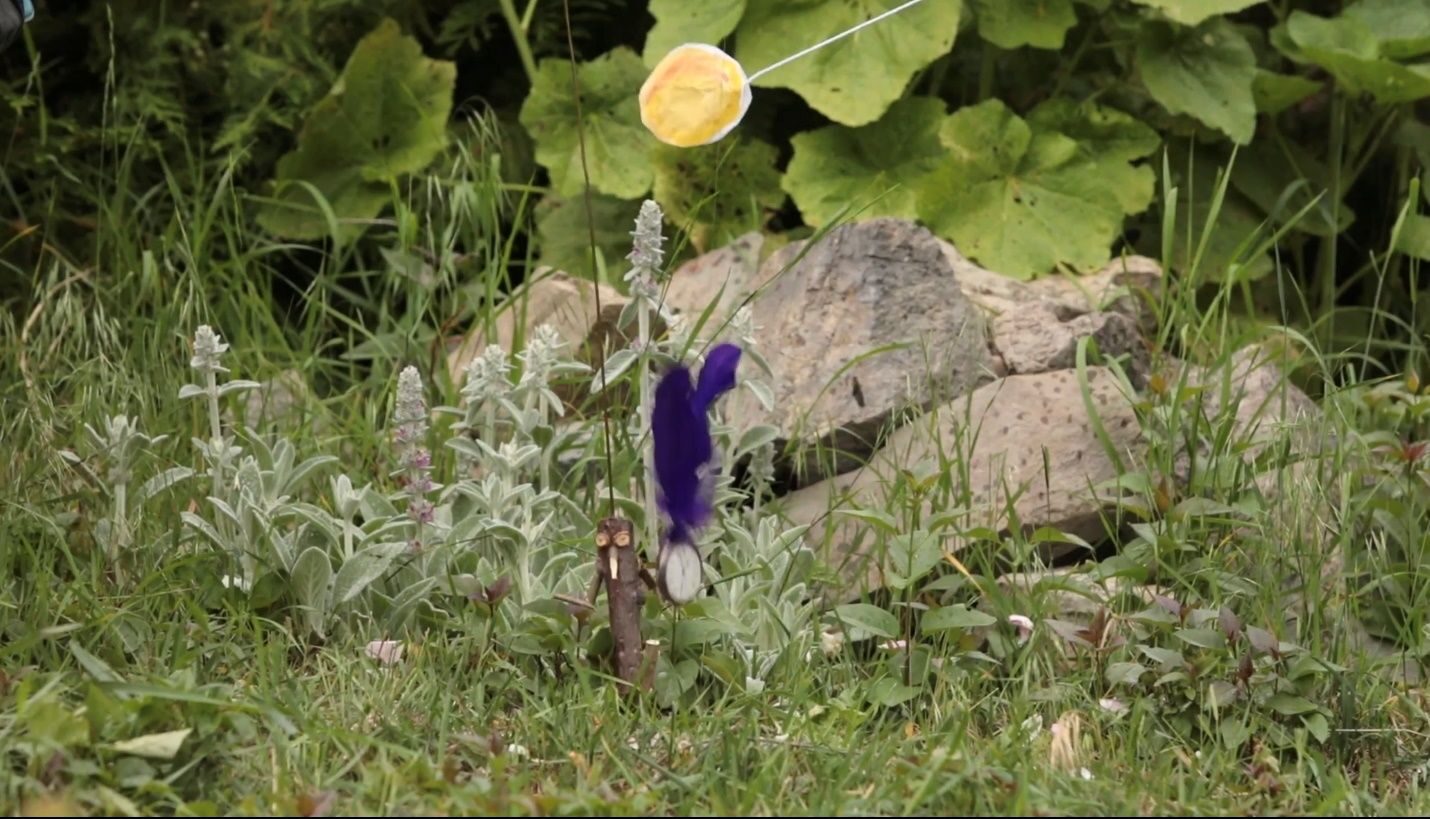 Robin Polfuss, Script:
Participating in this "exquisite corpse" puppetry experiment led me in directions I never would have tried on my own! I think the script writing was my favourite part because I love to work with poetry. I had not heard of Khayyam before, though once I started researching, I recognized some of his poetry! I read his wiki page, watched 2 short documentaries on him, found some classical Persian music to listen to while I worked, and then went to the poetry itself to look for a story... I wrote down quotes and poems randomly and found a thread to weave together. There seemed to be a love story, with sadness, yet also with hope. The story had to be fairly short (3 minutes) so I used freely floating lines of the poetry and it was a wonderfully exciting way to work! I hoped the participants after me would find the words of Khayyam as moving and inspiring as I did!
Hugh Probyn & Greta Papageorgiu, Show:
We received a script from Robin that contains timeless wisdom. The historical context of the period in which it is set were not our immediate concern, but rather the elemental truths contained in the story; Love and loss have always been part of our life-journey. Since moving to the Okanagan Valley from downtown Toronto, our eyes have been opened as we experienced the passage of the seasons and the dance of life in an ecosystem not entirely dominated by human design. It was in this natural setting, with puppets created out of found materials from the immediate environment, that this story seemed best told. Selecting sticks to build the puppets, where natural shapes suggested characteristics, was akin to looking for faces in clouds. Sticks, twine, grass and glue, all-natural products, were brought together to tell this story with a foliage setting as timeless as it is transient. We animated the piece in a single three-minute take and then recorded the music and voice in the same way.
Premise: Afsaneh Zamani Director, puppeteer and puppet maker and puppet lover BA in Dramatic Arts and puppetry, MA in Researching Arts, Art director of Arian theatre group
Design: R. Reid (they/them) is an artist, plant parent, and well-rounded theatre tech. Reid spends their time making things into other things and wondering why their spider plant doesn't have spiders yet.
Script: Robin Polfuss is a figment of her own imagination. She builds things. Her puppet troupe, Honeyball Puppetry, helped as idea-bouncers on this thing. Pronunciation: Raw Bin Pole Fuss
Show: Greta Papageorgiu and Hugh Probyn. Greta and Hugh are visual and performing artists and orchardists. This is their first foray into the joyous and expressive world of puppetry.