« Back

Eyes as Big as Plates is the ongoing collaborative project between the Finnish-Norwegian artist duo Riitta Ikonen and Karoline Hjorth. Starting out as a play on characters from Nordic folklore, Eyes as Big as Plates has evolved into a continual search for modern humanity belonging to nature.
The series is produced in collaboration with retired farmers, fishermen, zoologists, plumbers, opera singers, housewives, artists, academics and ninety-year old parachutists. Since 2011 the artist duo has portrayed seniors in Norway, Finland, France, US, UK, Iceland, the Faroe Islands, Sweden, South Korea, Czech Republic, Japan, Senegal, Outer Hebrides, Tasmania and Greenland.
Each image in the series presents a solitary figure in a landscape, dressed in elements from surroundings that indicate neither time nor place. Here nature acts as both content and context: characters literally inhabit the landscape wearing sculptures they create in collaboration with the artists.
Photo: Eyes as Big as Plates # Boubou (Senegal, 2019) © Karoline Hjorth & Riitta Ikonen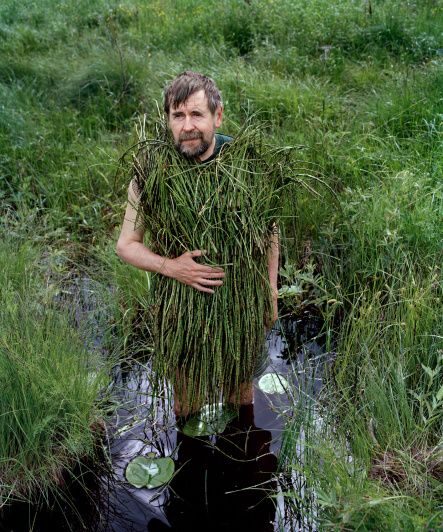 Photo: Eyes as Big as Plates # Markku (Finland, 2012) © Karoline Hjorth & Riitta Ikonen
As active participants in our contemporary society, these seniors encourage the rediscovery of a demographic group too often labelled as marginalized or even as a stereotypical cliché. It is in this light that the project aims to generate new perspectives on who we are and where we belong.
Eyes as Big as Plates has previously been shown at the Norwegian National Museum (touring exhibition), Salamanca Arts Centre (Hobart, Tamsania), Deedee Shuttuck Gallery, The Chimney NYC, Landskrona Fotofestival (Sweden), Fotogalleriet (Oslo), Pioneer Works (NYC), Shoot Gallery (Oslo), The Museum of Contemporary Arts Kiasma (Helsinki), NADA Miami, Art Toronto, The Nordic House (Reykjavik), The Finnish Institute in Oslo, Paris and Stockholm, Tetley Brewery (Leeds), Seibu Shibuya (Tokyo), Villa Borghese (Rome), Bemis Center for Contemporary Arts (Nebraska US), Bogota International Photo Biennale (Colombia), gallery FACTORY in Seoul Korea, Finlandia University Gallery (Michigan US), The Nordic House (Faroe Islands), The National Museum of Greenland, the 44th Tendenser exhibition: Earth, Wind, Fire, Water – Nordic Contemporary Craft at Galleri F15 / Punkt Ø in Moss, Norway, amongst others.
Photo: Eyes as Big as Plates # Agnes II (Norway, 2011) © Karoline Hjorth & Riitta Ikonen
Photo: Eyes as Big as Plates # Momodou Toucouleur (Senegal, 2019) © Karoline Hjorth & Riitta Ikonen
Photo: Eyes as Big as Plates # Bob II (USA, 2013) © Karoline Hjorth & Riitta Ikonen
The first Eyes as Big as Plates book featured portraits, field notes, essays and behind-the-scenes stories from the first six years of this project's production. All 176 pages were printed with eagle-eyed precision in Gothenburg in Sweden and bound together with love at the last bookbindery in Norway. Each one of these hardcover books was hand-finished with summer leaves on the front and back covers. Designed by Greger Ulf Nilson and published by Forlaget Press, the edition of 2000 books was brought to life by a roaring crowdfunding success in 2016. The book was published in 2017 and was shortlisted for the Paris Photo / Aperture Foundation – Photobook Awards the same year, as one of 20 books from nearly 1000 entries in the 'First Photobook' category.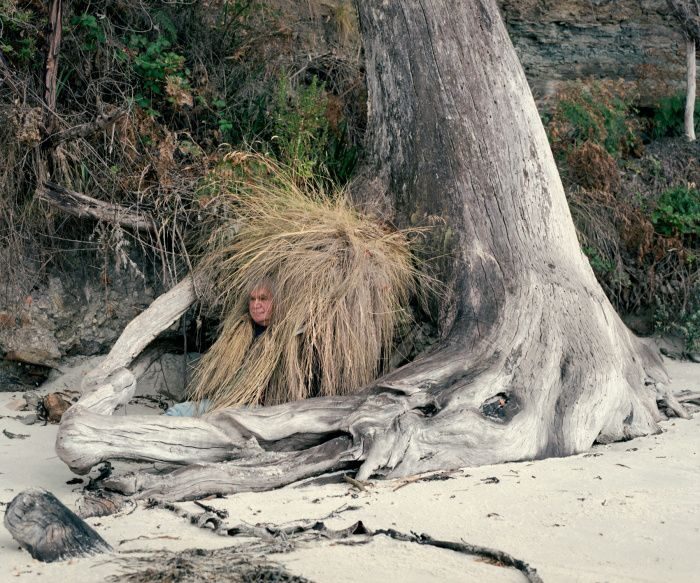 Photo: Eyes as Big as Plates # Uncle Dougie (Tasmania, 2019) © Karoline Hjorth & Riitta Ikonen
Photo: Eyes as Big as Plates # Mr Oh1 (South Korea, 2017) © Karoline Hjorth & Riitta Ikonen
The first volume is now sold out, but the second successfully completed crowdfunding campaign has recently secured the realization of a new book. Eyes as Big as Plates Vol 2 is planned to be published in conjunction with the ten-year anniversary of the project in 2021, and will feature sixty brand new works and field notes made over the last four years in South Korea, Tasmania, Outer Hebrides, Senegal, Iceland, Greenland and Norway. You can pre-order the new book on the website: https://eyesasbigasplates.com/buy-the-book-2/
Please get in touch for more information: eyesasbigasplates@gmail.com